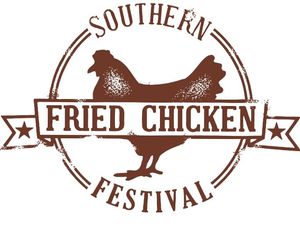 Frequently Asked Questions
What can I expect with the purchase of my ticket? 
See TICKETS tab
Tickets are available for purchase on Eventbrite (click here to purchase). Every guest must have a printed ticket in their hand or digital ticket on their mobile device to be scanned to enter the event with a valid/current ID. 
How much can I eat? 
Food sampling time ends at 6pm for all ticket holders!!! Your Judge Pass ticket will come with 10 food sampling vouchers. You will trade these vouchers to the fried chicken contestants in return for a sample sized portion of what they are offering for the contest. You will try the food and vote for your favorites on-line. You may purchase any other offering the vendor is selling if it is not offered as a sample or if your run out of your 10 sample tickets.  Once again, food sampling will stop at 6pm. After 6pm, food will be for purchase only. Vendors may still sample at their discretion after 6pm. 
What do I need to bring? 
Please bring your ticket or electronic ticket, your ID, cash/credit to purchase Southern Fried Chicken Fest merchandise, vendor merchandise, Fried chicken dishes, hot sauces and such!  Bring a blanket to sit on the lawn, lawn chairs are ok too!

What not to bring!
Weapons of any kind
Coolers
Non Disposable Cups
Disposable cups
No food will be allowed in
No drinks of any kind will be allowed in
What happens if it's raining? 
If the city of Houston is having inclement weather and shuts the city down, we have a rain date of September 7th planned.  Same place, same time! 
Will you be selling Southern Fried Chicken Fest Houston t-shirts this year? 
Yes, we accept cash and credit cards. We will have the logo shirts for sale at the festival and also on line on our website on the "SFCF Merchandise" tab. 
How do I purchase both alcohlic and non alcoholic drinks at the festival? 
All drinks can be purchased with cash or credit card at the drink booths.  
What is in the VIP area? 
The YARD BIRD PASS gives access to the Sponsored pairings tent. Here there will be food, liquor, beer and wine sampling taking place. The Pairings tent will also feature 2 well known chefs giving fried chicken cooking exhibitions. 
Can I bring my kids? 
Yes, kids are allowed with parent or guardian and must have a ticket. ANYONE ON THE PREMISES UNDER THE AGE OF 18 WITHOUT A PARENT OR GAURDIAN PRESENT WILL BE ASKED TO LEAVE WITH NO REFUND. Kids will not be allowed in the Pairings tent area. This area is 21 and up only.   
Do you give refunds if for some unthinkable reason I can't make it? 
Unfortunately we do not offer refunds. If you have an emergency, please email us regarding transferring a ticket and we will do our best to accommodate you. 
Do the proceeds go to charity? 
Portion of the proceeds will benefit various charities for colon cancer research and also The Houston Food Bank. 
Can I buy a ticket at the door? 
Yes, if we are not sold out. We will announce via our Facebook account when we sell out.  If not, we take cash and credit card at the gates. 
Will there be ATMs at the event? 
Yes
Is Southern Fried  Chicken Fest accessible for those with mobility limitations?
Yes! Peggy Park is an accessible venue if you are a person who uses a wheelchair or another mobility device. 
What about gluten free, vegan or vegetarian choices?
SFCF does not promise to offer vegan or vegetarian food vendors.   
If I don't plan to drink or eat, can I get a discount? 
We can't offer any discounts for non-drinkers/ non-eaters, but we will have water available at the drink booths. 
Where is the best place to park? 
Peggy Park is located in 3rd ward and offers and abundance of free street parking nearby. SFCF encourages its guests to use public transportation, Uber and Lyft.  
Can my restaurant or beverage company participate? 
We are aiming for a set number of food vendor participants so please let us know your interest ASAP and we will get back to you. Please fill out the Vendor Application and a SFCF Representative will follow up with you with in 48 hours. All vendors must be signed up and paid up by March 15th, 2019. 
Are you taking sponsorships/vendors? 
Please contact us. 
SFCFinfo@gmail.com